"Congratulate Bob on his anniversary" was the LinkedIn message that I received via email last week. While that message might seem ordinary or innocuous to those who don't know Bob, seeing it in my inbox resulted in a morning jolt that made my head spin. You see, Bob had passed away a few weeks earlier. After thinking about it for a few seconds, I realized that the message was automatically sent out by LinkedIn, and that, obviously, no one had updated or deleted Bob's LinkedIn account. And who can fault his family or Bob's accounting practice partners for not immediately taking care of this small detail in their time of grief.
I knew Bob for many years strictly in a business context. He referred our firm to a number of his accounting clients to help them with their financial and/or legal matters. When I last called his office, a few weeks before the LinkedIn message arrived, I was shocked to hear that he had passed away. I had no idea he had been sick.
Reflecting now on what just occurred with LinkedIn, many thoughts run through my head. We all are constantly reminded by Social Media sites of our contacts' birthdays and anniversaries. Perhaps, it would be best for some type of reminder to continue after a loved one passes away; i.e., an automatic Facebook message such as, "today is the second anniversary of Jenny Joseph's passing." After all, isn't life about balancing the good and bad? How about occasional doses of harsh reality from social media, rather than the constant barrage of images of friends/contacts having the times of their lives, experiencing incredible things? We all know that things cannot always be as rosy for our contacts as they appear to be on social media.
Thanks to Bob, there's a small change that I am going to make to my Law practice. We currently have a checklist of tasks that family members are advised to complete after a loved one passes away. They are instructed to do things such as contacting social security and credit card companies, ordering death certificates, etc. You already know what I'm going to add to that list……Notify social media sites….Or, alternatively, if my argument above has any merit, do nothing, and allow social media to continue to send out post-mortem messages.
And finally, since I received a post-mortem social media message about Bob, I am going to send my own post-mortem social media message back to Bob, and here it is: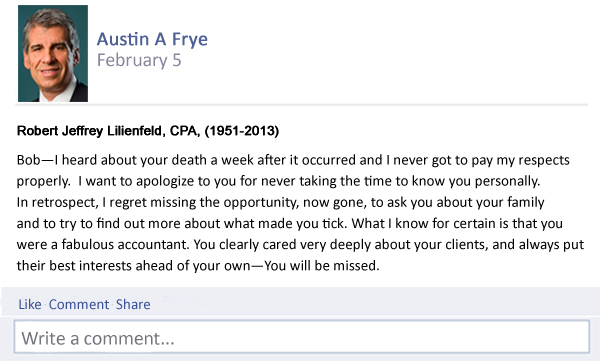 This message will be posted to social media sites so Bob can read it on his LinkedIn page from where ever he has landed.